:+: US National Hurricane Center :+: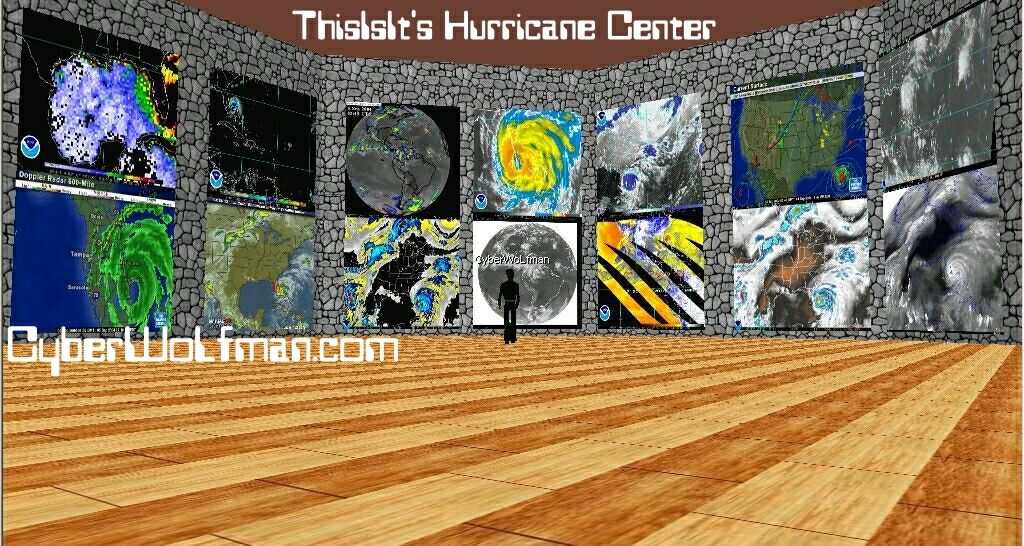 A picture of me standing in the Hurricane Center that I built in my 3D world, ThisIsIt.

This page may not look right to you
Look at the pictures below to see if your Web browser is displaying this page correctly.
To see the pictures full-sized, simply click on them, and they'll open in a new window.
If you don't see the page the way it looks in the pictures, check out CSS and the History of Web Browsers for more information, and to learn where you can download something better for free.
For my friends who are worried about hurricanes in their area. :-)
Because some of these images are fairly large in size, you should reload the page yourself, because I don't want to force you to use up all your bandwidth by making the page do it for you. I advise doing it about once every 15 minutes or so. It's doubtful that any of the images will change faster than that.
First, a few satellite photos:
The above is a 'false color' satellite photo which helps to better see the hurricane and its location.
This one is how it normally looks.
---
Weather satellite pictures with weather alerts
The GOES 12 satellite, color enhanced and infrared. Has weather warnings on it when there are some.
---
Weather satellite pictures with weather stuff on them
From the Weather channel. It shows what kind of wet stuff you got and where the fronts are.
---
I'll organize the rest of these, later
Southeast US satellite picture in infrared, showing cloud temperature.
NASA's TRMM satellite at 85 GHz.
---
For those thinking about having a 'hurricane party'...
Do me a favor, and just say "no!"
Copyright © Cyberwolfman™ aka CyberWoLfman™ aka Grok Wolf. All Rights Reserved.